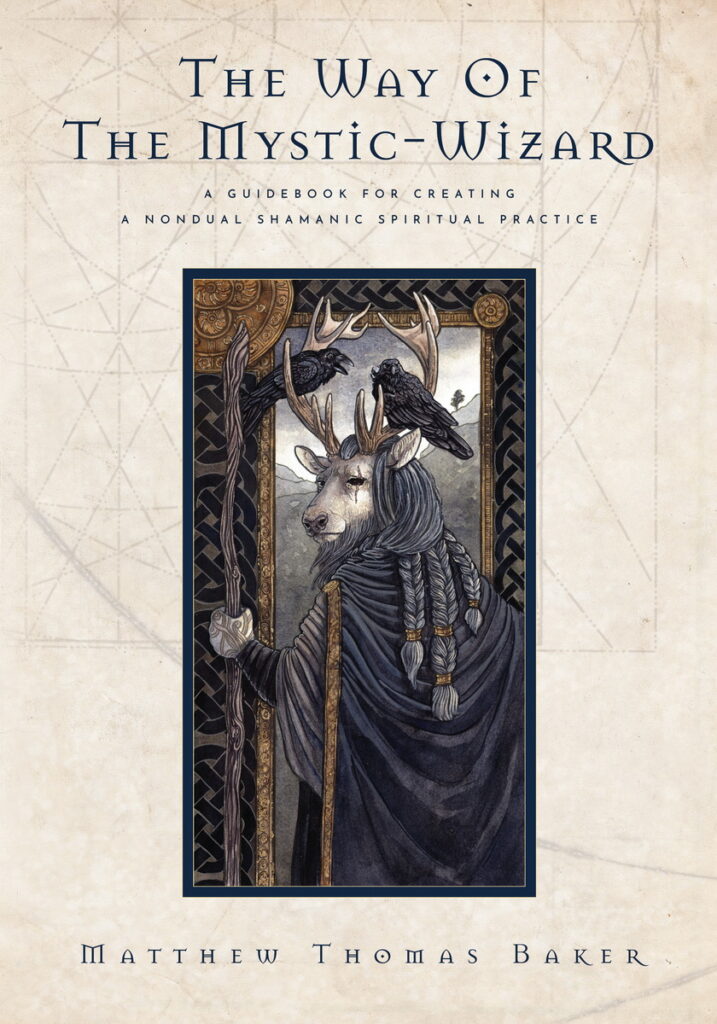 "I love this book—clear, deep, and immensely practical. It is full of wonderful insights, and it explains ideas in a way that makes them come alive."
—Philip Carr-Gomm, Author, Psychologist, Druid Teacher and Leader
"I highly recommend [The Way of the Mystic-Wizard] to all readers who are drawn to an adventurous approach to nondual wisdom."
—Dr. Peter Fenner, Creator and Author of Radiant Mind and Natural Awakening
From the founder of the Institute for Nondual Shamanism comes a guidebook for allowing transformative work to unfold while we manage our lives, jobs, and families. Matthew Baker's The Way of the Mystic-Wizard helps build a "container" in the form of a daily nondual shamanic spiritual practice. Regular connection with the soul creates a more flexible, open, joyful, and authentic self that can then work to manifest the life potential that has been waiting to be born.
The Way of the Mystic-Wizard draws on numerous traditions and encourages readers to seek teachings and practices that best serve their development. The path of the Mystic-Wizard brings forth the power, beauty, and wisdom of each person's unique spiritual expression.
Free Downloads
Images supplement the book and illustrate the guided journeys. You are welcome to print these for personal use, but please respect the artist's copyright and do not distribute. For more information on the artist, visit Matthew Spencer Illustration. Thank you.
Recorded journeys for The Way of the Mystic-Wizard
More Praise for The Way of the Mystic-Wizard
"This wonderful book by Matthew Baker grows out of a wholehearted commitment to bring nondual awakening to seekers of wisdom and truth. To ease understanding, Matthew often turns characters and symbols already embedded in contemporary culture into transmitters of perennial guidance and wisdom. While written for all who seek, this book is also an effective bridge for young adults, inspiring them to take their pre-existing wisdom one step further into the realms of nondual awareness. I highly recommend it to all readers who are drawn to an adventurous approach to nondual wisdom."—Dr. Peter Fenner, Creator and Author of Radiant Mind and Natural Awakening
"Matt Baker and I met two decades ago, and he's always had 'mystic' written all over him. The Way of the Mystic-Wizard is a sublime privilege of entering into the personal and authentic process of soul-making. Matt is a magical storyteller who weaves in the practical tools and exercises needed to build our own nondualistic shaman practice. This book is for all who believe, like Matt, that 'everybody has the right to pursue genuine awakening, wisdom, mastery, and spiritual and creative accomplishment.' Venture wholeheartedly into this book and it will become your everyday companion for living a life of 'spiritual independence.'"—Gil Stafford, Author of Wisdom Walking and When Leadership and Spiritual Direction Meet
"Matthew Baker is a master at helping people find their soul's calling through inner journeys. Now more than ever, people need to stop looking for the answers outside of themselves. The answers are waiting inside and Matthew is the perfect guide to help individuals deeply connect. If you found your way to this book, your soul may have something important to tell you."—Kimberly French, CEO, Author, Speaker
"In The Way of the Mystic-Wizard, Matthew Baker captures both the magic and the discipline of awakening, creating, and deepening spiritual practice. His inspired examples and pathways support the expansion of the soul beyond the known self and offer a container for experiences that are at once spirit-led and grounded. Those seeking to connect to their authentic self will find an abundance of guidance."—Shenoah Taylor, Shamanic Practitioner at Shamanic Voices
"Before working with Matt and the Way of the Mystic-Wizard, I felt lost, like I didn't belong in this world. His methods helped me to find solid ground again and a path to follow on my journey of growth and development."—John Silkey, NDS Member